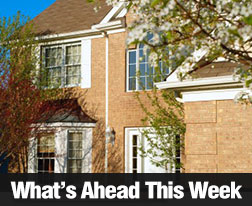 Last week brought mixed economic news, but Leading Indicators released Thursday suggest that the U.S. economy is growing at a moderate rate.
Mortgage rates for fixed rate loans were higher, but the average rate for a 5/1 adjustable rate mortgage was unchanged from the prior week. Weekly jobless claims were also higher.
The National Association of REALTORS released its Existing Home Sales report for July and reported existing home sales came in at 5.39 million on an annualized basis.
This reading surpassed expectations of 5.21 existing homes sold as well as June's reading of 5.06 million existing homes sold on an annualized basis.
FOMC Minutes Released, Mortgage Rates Rise
The minutes for the July 31 FOMC meeting were released, and emphasized the likely "tapering" of the Fed's quantitative easing program possibly as early as September, though no dates have been set. Many of the FOMC members support reducing the $85 billion in monthly securities purchases made by the Fed; fewer members supported tapering the asset purchases sooner than planned.
Previous announcements by the Fed regarding its plan to reduce QE have created erratic responses in financial markets, but the release of the meeting minutes seemed to cause a sharp rise in mortgage rates.
Freddie Mac reported that the average rate for a 30-year fixed rate mortgage moved from the prior week's average rate of 4.40 percent to 4.58 percent; average discount points moved up from 0.70 to 0.80 percent. Average rates for a 15 year fixed-rate mortgage also rose from 3.44 percent to 3.60 percent with average discount points moving from 0.60 to 0.70 percent.
Average rates for a 5/1 adjustable rate mortgage were unchanged from the previous week at 3.21 percent with average discount points paid at 0.50 percent.
FHFA reported that home prices for homes with mortgages owned by Fannie Mae and Freddie Mac rose by 7.70 percent year-over-year in June, home prices rose slightly from May's year-over-year- rate of 7.60 percent.
Leading Economic Indicators (LEI) for July rose by 0.60 to a reading of 96.0; this exceeded expectations for an increase of 0.50 percent. The LEI measures the health of the economy by measuring 10 top economic sectors; eight of 10 factors measured increased; these were led by the spread on interest rates, availability of credit, stock prices and permits issued for building new homes.
New home sales for July were lower than expected at 394,000; Wall Street expected new home sales to come in at 485,000 on a seasonally-adjusted annual basis against the revised number of 455,000 new home sales reported for June. 497,000 homes were initially reported sold in June. Hew home sales gained by 6.80 percent year-over-year in July.
What's Coming Up
Scheduled economic news for this week includes the Case-Shiller Home Price Index, and Consumer Confidence on Tuesday, Pending Home Sales will be out Wednesday. Thursday brings Weekly Jobless Claims, and Friday brings consumer spending and the University of Michigan's consumer sentiment report.